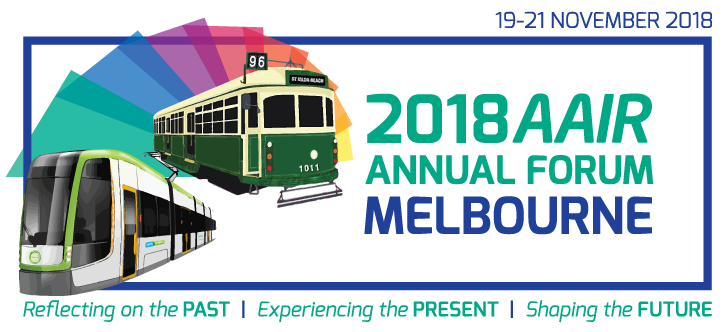 Welcome From the Committee
On behalf of the organising committee we invite you to join us in Melbourne for the 29th AAIR Annual Forum! A modern cosmopolitan city, but also one that is rich in history and tradition, Melbourne provides the perfect setting for the 2018 Forum, Reflecting on the Past, Experiencing the Present, Shaping the Future. There is a sense of déjà vu on both sides of the Tasman with recently introduced government policy in Australia and New Zealand sounding somewhat familiar. Enrolment caps and funding agreements are on the agenda in Australia whilst in New Zealand fees free policy has come into effect. We invite you to submit an abstract and be part of the past, present and future from 19-21 November in beautiful Melbourne – voted the world's most liveable city for seven consecutive years!
The Forum program is guaranteed to challenge and excite as specialists share their rich experience, discuss key topics and strategize in response to an ever-changing higher education sector. Themes encourage speakers to think about and question the value of higher education and the changing role of the institutional researcher. Evidence based strategic planning and continuous quality improvement supported by a solid survey and evaluations framework are on the agenda. All of this is underpinned by business intelligence, analytics, visualisation and modelling.
Pre-Forum workshops and Special Interest Groups will run on the day prior to the main Forum sessions including a full day survey manager's workshop. AAIR welcomes new and experienced presenters and a presenter briefing tailored to new presenters will be held on the 19th November. As always, there will be plenty of networking opportunities including the welcome reception and dinner both to be held at uniquely Melbourne venues.
Melbourne itself is a packed agenda and the perfect location to host the Annual Forum as we tackle the challenges and complexities we face as institutional researchers. Officially the sporting capital of the world, Melbourne hosts an array of national and international sporting events and boasts world class stadiums. If theatre, live music or the artworks are of interest then you won't be disappointed with the choice. Melbourne offers a shopping feast of food and fashion found in department stores, shopping centres, arcades and laneways.
AAIR has formed valued relationships with sponsors who have participated in the Forum for many years and have become a part of the AAIR community. We look forward to continuing these relationships and welcoming new supporters to the event. Take the opportunity to speak with these vendors as often they're working closely with many of your colleagues in other institutions.
Having the reputation of being the leading institutional research event in Australasia, the AAIR Forum is an ideal event for you to expand your knowledge in the sector. Join with the many institutions who continue to support the Forum and enjoy what we anticipate to be an exceptional event.
Join us in Melbourne at the 29th AAIR Annual Forum!
The Local Organising Committee 2018
OUR SPONSORS
OUR EXHIBITORS
Don't miss your chance to be a part of the AAIR Forum 2018
Abstract Submissions Open
Abstract Submissions Close
Early Bird Registration Closes
Special Interest Groups, Pre-Forum Workshop, Welcome Reception
Forum Sessions and Forum Dinner
Wednesday 21 November 2018